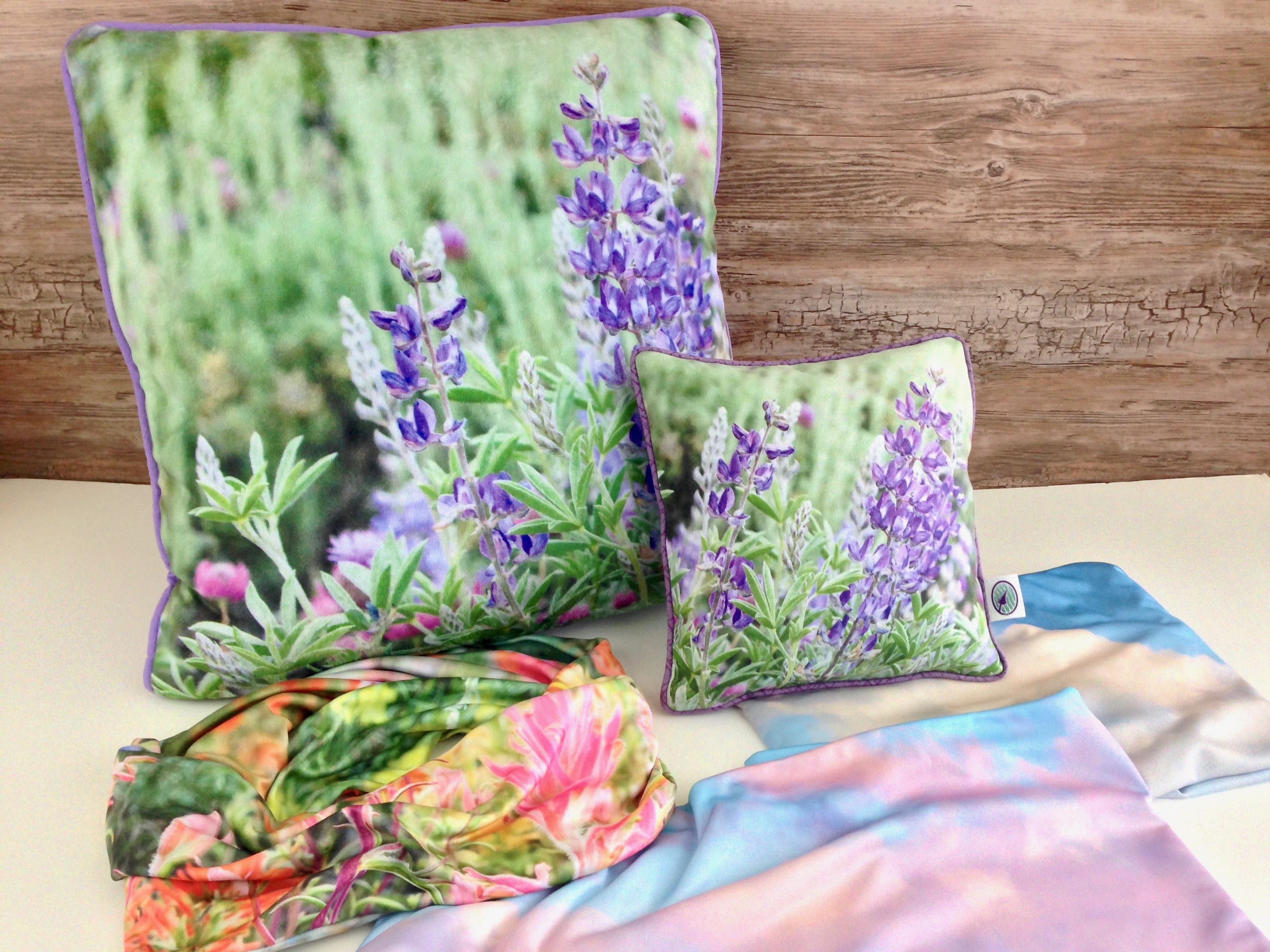 Rebecca with The Fox Den in Bridgeport, California carries my photo art and featured me in her July newsletter! If you are passing through Bridgeport, be sure to stop in and say hi to Becca and Foxey – and to check out her collection of work by local artists in all kinds of media. Thanks, Becca and Foxey!!
See the original article here.
Reprint following:
Featured Artist: Heather Freeman of Wild Onion Creations
This month's featured artist, Heather Freeman of Bishop, is an artist I have showcased at The Fox Den since the first year it opened. Her photography and seamstress skills are simply amazing. She prints her photos on various fabrics and creates everything from infinity scarves to pillows, zipper pouches to notebook covers, and more!
Heather took the time to answer a few questions about herself and her art…
1) What is your business' name and when did you start?
Wild Onion Creations, 2014
2) What do you make?
I print my photography from Eastern Sierra landscapes and historical places onto fabrics and sew them up into home decor and personal accessories like throw pillows, scarves, wallhangings and bags.
3) How did you get started?
I wanted to give meaningful gifts to friends and family, something personal and special. I started by learning to sew tote bags from several online tutorials personalized with monograms, but still wanted something more. So, I started playing with printing my photos of the kids in the family on fabric. After all kinds of experimenting, I got it to work and made tote bags with those photos. They were a hit! I think the ladies in my family have a good selection of tote bags now! Next step was to print the landscape photos my husband and I take on our adventurers exploring this beautiful area. I've expanded into all kinds of other textile products made with sturdy linen-cotton, cuddly minky, to semi-sheer chiffon.
4) What inspires you?
Nature is my inspiration. Sometimes it's a challenge to choose just soaking in the moment and experience nature's beauty or grabbing my camera to capture it. The details really draw me in, whether it be the wild onions blooming in the forest, the lines in a wild iris petal, the reflections on the water, or the signs of the changing of the seasons.
5) What is your most popular product?
My products are handcrafted in small batches, and I rotate through what I make, so I often have different things available. I've been working on growing my throw pillow collection, offering it in different fabrics and sizes to little 10″x10″ guys to my long 38″ pillow that'll fill a bench! These are pretty popular right now and available in scenes from Bodie, Rock Creek Canyon, Bishop Creek Canyon, and from wildflowers to fall colors. My customers can enjoy their favorite season year-round!
6) Anything else about your products that you would like to share?
I've just added some new scarves to my line – long rectangular and square ones in sheer chiffon or satin charmeuse. These are really versatile as they can be worn in so many ways, from an evening shawl, swimsuit coverup, head scarf to the fun and simple knots or some crazy complex ways that turn out really cool (check out Pinterest!).
I'm also working on some reusable notebook covers with my Eastern Sierra photos. These slip off when you've filled up the notebook and just pop in a new moleskine refill. There are a couple sizes, one fits nicely in a pocket or small purse, and one that fits in a backpack for sketching or journaling on the go.